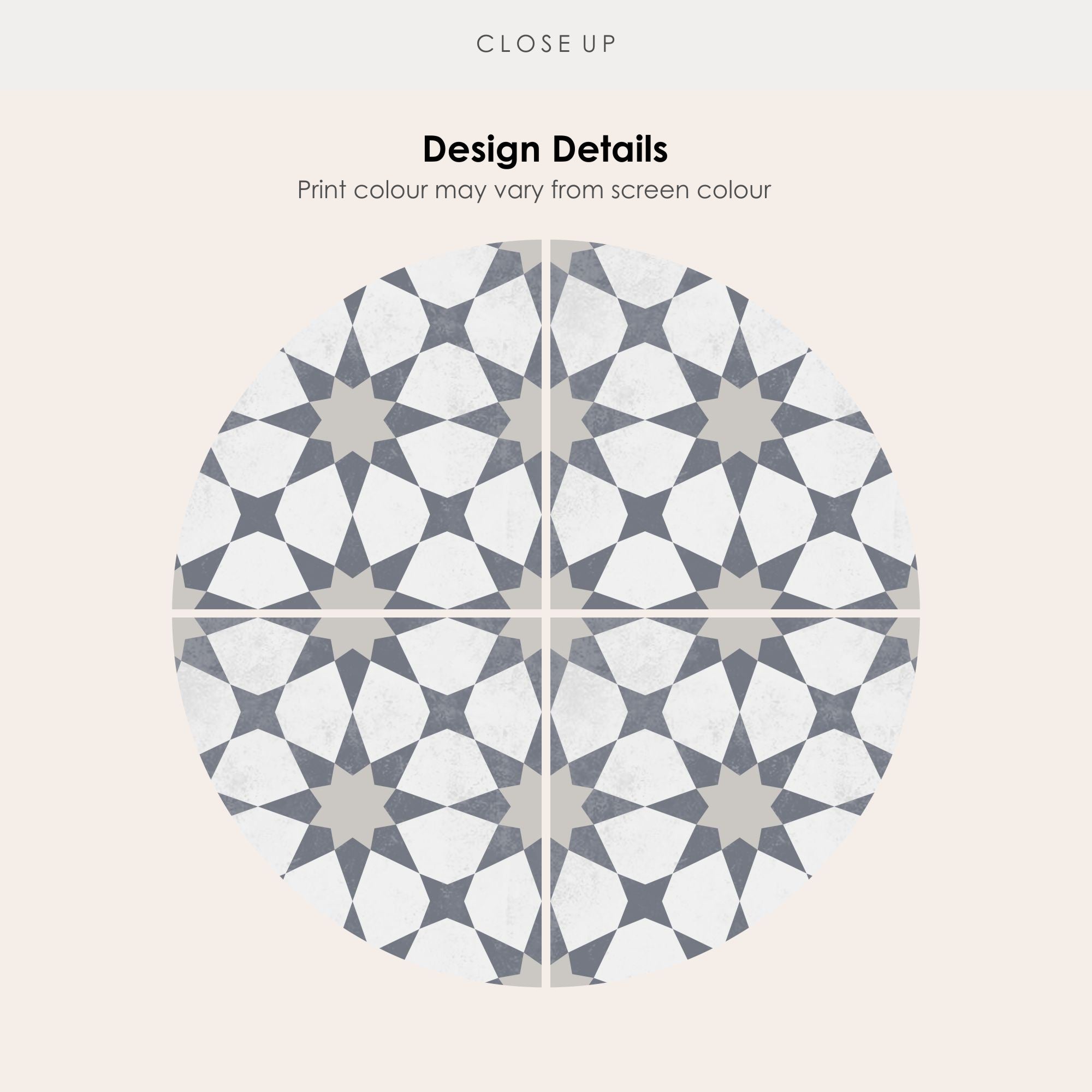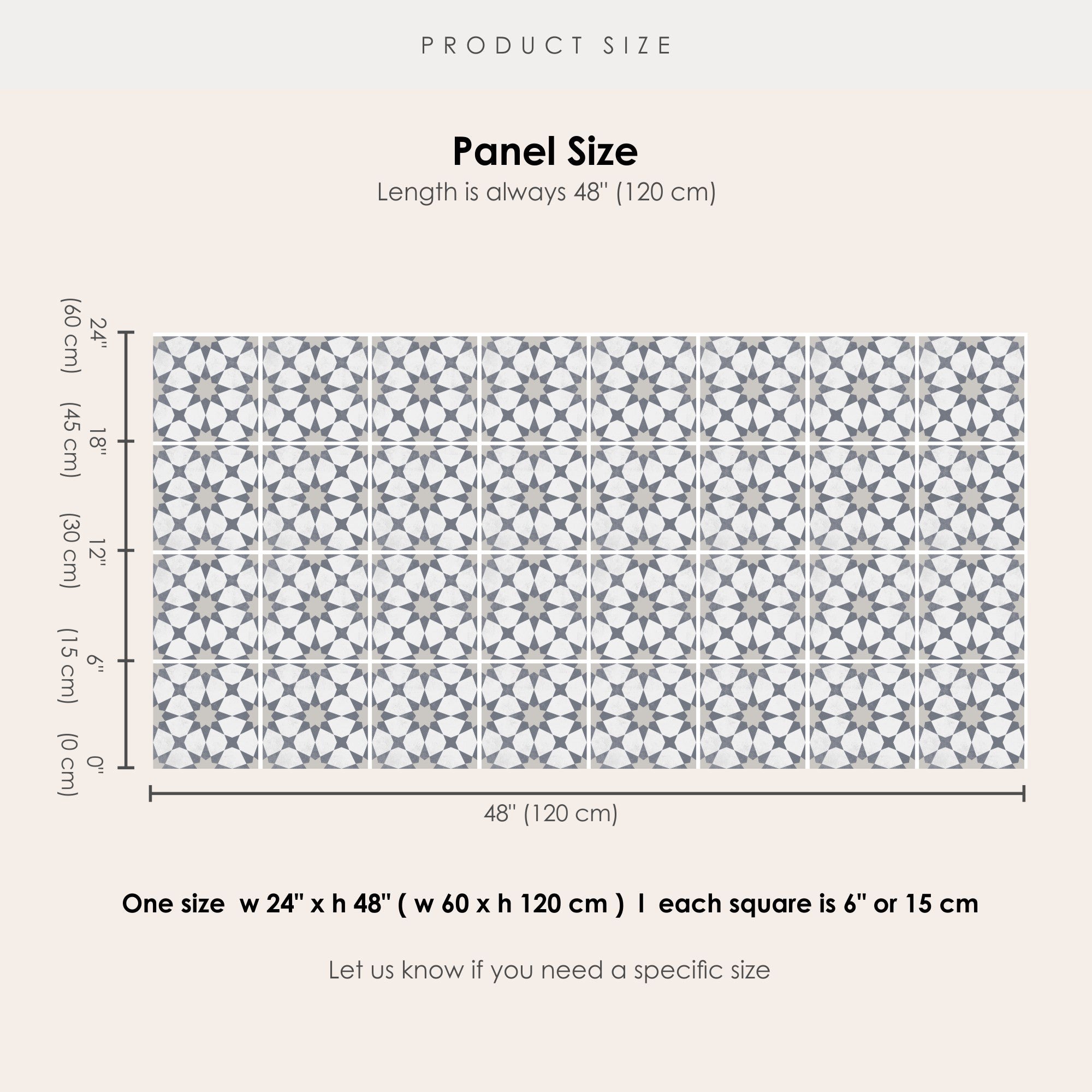 Agadir in Grey Wallpaper
---
Free shipping above $99
100% Secure Checkout
🚚 Order now you'll receive your order by Tuesday 19 Dec
Description
Product Specs
Size Guide
User Guide
Shipping & Returns
Are you drooling over cement tile trends? Vinyl stickers are a life changer. Trust us: You won't be able to stop looking at your feet. Loved for their weathered beauty our replica encaustic tile stickers will not disappoint. Agadir promises to deliver bohemian chic to your home.
Colour
The background is a pale grey beige with nuances of wear, the pattern features dark grey points with a taupe grey centre star.
Tile Size
Each tile square is 6" x 6" (15 x 15cm)
| | | |
| --- | --- | --- |
| water-resistant | repositionable | easy to clean |
| 300 micron thick | removable  | easy to install |
| safe behind stove | safe for fireplace surrounds | easy to trim |
| OK on shower walls | OK over a backsplash | ideal for balconies |
| | | |
Wallpapers and Backsplashes
| | | |
| --- | --- | --- |
| Size | coverage sq.ft. | coverage m² |
| sample | 4 sq.ft | 0.36m² |
| 1 panel | 8 sq.ft | 0.72m² |
Easy to join at the white grout lines
Each tile is 6" square
How easy are they to apply?
Installing Quadrostyle wallpaper is easy-peasy-lemon-squeezy. 
Free Shipping & 14-day returns
Earn free shipping on your order when you spend 90€ ( that's about $99USD )
Speedy Delivery: Allow 2 days to print and 7 days to receive your order.
All orders are shipped from our warehouse in Indonesia.

See full shipping & return details
FAQs
Have a Question? Answers Here
Can you help me work out how much I need?

So you've tried using our calculation tool, and you're still confused about how much to order? Stay zen, there's no use stressing out over what should be a fun decorating project!

Simply fill out this form with the details of your project, and we'll do all the calculating for you!
We ship internationally from our warehouse in Indonesia. Shipping charges are added at the checkout. See full shipping details
Can I order a smaller sample?

Yes! To see the same size square head to the sample product page and choose from our 6'' (15cm) sample bundle
Can I use wallpaper panels on the floor?

Unfortunately, no.
Our wallpaper is not coated with protective laminate needed to withstand the daily moving and grooving of your home. So, no, we don't recommend them on the floor. 

However, we do offer floor panels, which are essentially like wallpaper for your floor. They even come in the same size panels. Floor panels do come with a protective laminate and are specifically designed to take foot traffic.
Can I caulk over my stickers?

When installing your wallpaper or stickers around the bath or the shower recess it's a good idea to add a line of caulk along the raw edges to prevent water seeping under. 
Not only does it add a barrier but the clean white line will make your application look professional.
Got a different question?

Check out all our FAQS here or contact us through our contact page! We will be happy to assist you.
Elevate your Space
Say goodbye to messy, time-consuming installations and hello to an easy, hassle-free upgrade. Our high-quality adhesive tile stickers are designed to stick firmly onto any clean and flat surface, allowing you to transform your space in minutes.
Unleash your culinary creativity,walls stay pristine!
Effortlessly clean up messes, our backsplashes resist steam, and serve as an ideal protective barrier behind your stove, ensuring both practicality and style in your kitchen.
Bathtime Friendly
Specifically designed for high-moisture areas our wallpaper is water-resistant and steam-resistant, ensuring its longevity in the bathroom. The laminated surface makes it a practical choice, as any splashes can be effortlessly wiped away.
Ignite Your Fireplace Style
Self-adhesive and so easy to apply - create a visually striking statement into your living space.
Authentic Style
Ultra-realistic designs mimic the textures and patterns of real fabrics, bringing an unparalleled level of authenticity and elegance to your space.
Sleek & Seamless Beauty
Enjoy a clean, contemporary backdrop for your culinary endeavours, our 2D backsplashes enhance your kitchen with modern vibes.
Unrivaled versatility
Adapted to any smooth, non-porous surface, you have the freedom to change up your decor whenever inspiration strikes. From accent walls, fireplace place surrounds to furniture makeovers, unleash your creativity and customize your abode with ease.
Need a Jaw-dropping Feature wall?
Use a backsplash to create a focal point in your kitchen or bathroom. Choose a vibrant or eye-catching design that will instantly draw attention and become the centerpiece of your home.
Wallpaper Specifications at a Glance
Composition
Imported 300 micron PVC vinyl
0.04'' thick
Compatibility
Ceramic tiles with fine grout lines
Drywall painted in satin or gloss finish

Laminate & melamine
Glass, metal and varnished wood
Uses
Bathtub surround & shower walls
Fireplace surrounds & furniture
Water-Resistant
Ideal behind a sink, a steamy kitchen, great over old shower tiles
Heat Resistant
Safe to use behind your stove or decorate a fireplace surround
Removable
Renter-Friendly! Peel them off without damaging what's underneath
Repositionable
Reapply them again and again without them losing their grip
Re-usable
They cannot be used again once they've been applied
Non-Toxic
Yes, we use child-friendly phthalate free PVC vinyl
Safe for the whole family, even your pets.
This wallpaper was so easy to use. I had to remove and re-apply a few times and didn't have to worry about ruining the wallpaper. I am so happy to have found a product that is so affordable! Thank you!
I love my backsplash! Super easy to install using a paper cutter and they look fantastic. People don't even realize that it's a sticker!
Absolutely love how these stickers have transformed the guest bath in our new house. They arrived quickly and are exactly as described. Will be ordering more for the rest of our projects.
Explore the Collections
More products for you to love
This product is rated 5.0 of 5.0 stars.
It has received 2 reviews.
How Much Will I Need?
Divide the surface you want to cover into individual rectangles to calculate how many wallpaper panels you'll need per section.
Imperial (in)
Metric (cm)
Add One More Surface
---
Choose a size
Waste
factor
We recommend a 2% wastage to ensure you have enough stickers to complete your project, surplus to trim & some left over to spare in case you make a mistake.