Bohemian or "boho" style is one of the most pervasive and widely recognized aesthetics, both for interior decorating and for fashion. But unlike boho fashion, which reached its pinnacle in the mid-2000s (we're looking at you, Sienna Miller), bohemian home design is timeless and has been trendy since it was born amongst artists and revolutionaries in 1850s Paris.
At its roots, bohemianism encompassed the romantic ideals of artists and poets like Baudelaire and Picasso, then evolved into the counterculture movement of the 60s and 70s as a rejection of elitism and classism.
In an ironic twist, many of today's nicest (read: most expensive) homes tout boho flair. As bohemian idol Bob Dylan sang, the times, they are a-changin'. 
Source: Timely Mag
But just because boho style has been co-opted by the upper class doesn't mean it's no longer accessible to everyone. A few trademark bohemian accents are enough to turn your home into the modern gypsy refuge you've been musing over on Pinterest and they don't have to cost you a fortune. Read on to find out which five items will get you there.
1. The Boho Bookshelf 
The original French bohemians were the artistic class, who preferred art and literature from new and foreign thinkers to the humdrum formality of the bourgeoisie. With art at its core, it's no fluke that it also happened to be aesthetically pleasing.
Today's bohemianism is less of a political statement, to be sure. Let's face it, no collection of wicker furniture, however extensive, means your moral standard is higher than anyone else's. Still, the emphasis on culture remains fundamental to the modern boho look. That's why no bohemian home is complete without plenty of books and art from various cultures, and a nice, full bookshelf to display them.
Source: Pinterest
When choosing a bookshelf, opt for natural materials like woven rattan, wicker, or classic wood. Then, load them up with everything you've got – plants, statuettes, framed prints, small paintings, and, of, course, books. Variation is the name of the game. Prioritize variety, both in terms of the objects you display and their origins. After all, mixing cultures is one the charms of bohemian style.
2. Richly Patterned Rugs
Speaking of mixing cultures, one of the best ways to introduce a global vibe to your home is with an artisanal rug. Hand-woven area rugs, like Persian and Oriental rugs, are popular options and have been for centuries. But recently, rugs from the Berber tribes of North Africa have become one of the hottest interior decorating trends, and a must-have for any bohemian-style home.
Source: AFK Living
Hand-dyed and crafted Berber rugs feature striking geometric patterns and come in warm, rich colors or bold monochrome. Either way, these rugs are sure to steal the show in any room.
Because Berber rugs are hand-crafted and widely sought after, they can get pretty pricey and might not be an option if you're on a budget. Thankfully, there are plenty of Berber-inspired rugs you can get for cheaper, like this one from the budget shopper's house of worship, Target.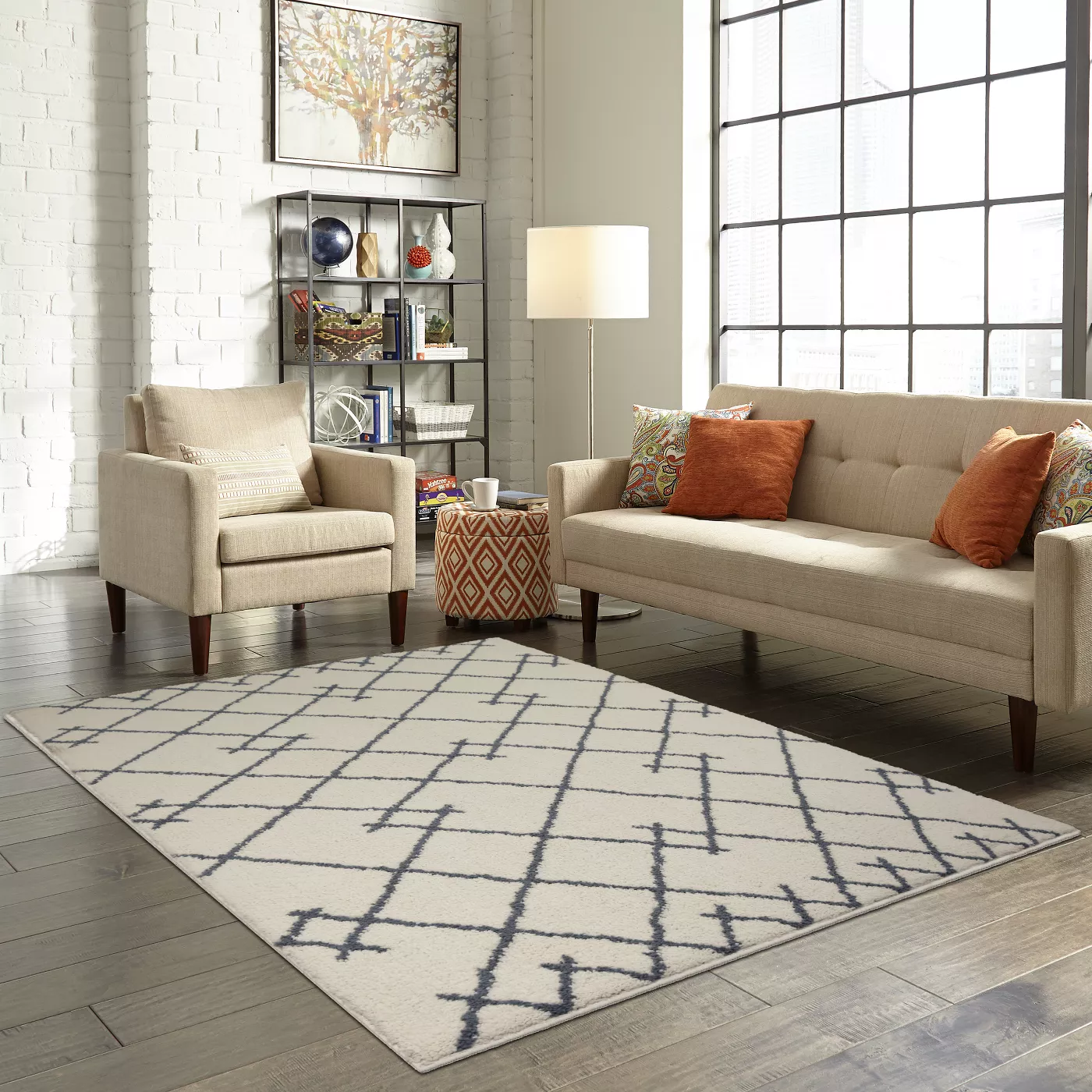 Target - Kenya Fleece Tufted Rug - Project 62™
Funky boho run from Rugs Direct
Or, if you want to get creative, skip the rug altogether and work in a Berber pattern with Quadrostyle's removable, peel-and-stick decals in Harlow. Inspired by the popular black and white Beni Ourani motif, these vinyl tile stickers can be used on the floor, as wallpaper, or even around the fireplace. 
Source: @sunwoven
3. Printed Tiles
Mixing and matching prints is a trademark of the boho look and a simple way to accomplish this is with tile. Not only do they add a new pattern to a room, but they also serve as an interesting textural element.
Many people are hesitant to tile their homes and for several good reasons. For example, committing to a pattern can be intimidating. Who knows if you'll change your mind about it once you've already cemented them in? And what if they go out of style? Tile can be complicated to replace and, like authentic Berber rugs, it can be quite expensive. 
Adhesive tile stickers are a great option for anyone struggling with commitment, price, or viability, as they're affordable, easy to install and remove. Quadrostyle offers a variety of bohemian-style tile decals to choose from that can be used almost anywhere.
For a well-rounded boho home makeover, we recommend using them in your bathroom or kitchen. Install patterned floor stickers for a strong impact or a backsplash for a milder accent. They can stand up to normal wear and tear and are even water-resistant so you don't have to worry about getting them a little wet.
4. Pampas Grass in a Floor Vase
A strong connection with nature is one of the defining characteristics of bohemian interior design. That's why natural materials are so often utilized in boho home decorating. It's also why plants play a crucial ornamental role. These green accents add life to your home, as well as a vibrant splash of color.
But there's one plant, in particular, that is currently trending hard in the decorating world and it's not even green: dried pampas grass. Pampas grass is a variety of grass native to South America that can grow nearly 10 feet tall. Its feathery plumes make for simple, neutral-toned statement pieces that blend harmoniously with the bohemian aesthetic.
Source: Erika Carlock
All you need to do is purchase a handful of stalks on Etsy and throw them in a tall decorative floor vase and you'll be transported to the plains. Pampas grass is particularly suited to the California bohemian look, associated with more neutral tones and minimalism.
Etsy - Blackseagrass, $4.50 per stem
Tip: spray them with hairspray to help them stand the test of time!
5. Rattan Chairs
We've already covered how natural materials like rattan are good options for bookshelves, but that's not all. Rattan is a practical material for pretty much any piece of furniture. Scroll through any bohemian-themed feed on Instagram or Pinterest and you're sure to come across every imaginiable piece of furniture in rattan form, including coffee tables, end tables, couches, and wall shelves. But the one piece you'll come across more than any other is the rattan chair.
Source: blueagateabode.com
Now synonymous with boho interior style, rattan chairs, especially the trendy peacock chair, have grown in popularity not only because they conjure up images of an island getaway, but because they are durable, lightweight, and endlessly instagrammable.
Because they've become so popular, you can find rattan chairs almost anywhere that sells furniture, including trendy home furnishing outlets like Anthropologie.
Anthropologie - Pari Rattan Chair - $98
Armed with the five key ingredients to the ultimate bohemian home, all you've left to do is go shopping. In other words, the fun part! Start here to browse all our bohemian-inspired patterns and be one step closer to your deluxe hippie home!